Fly Into Venice Beach and Sharky's Restaurant on the Pier
Today's destination is beautiful Venice Beach Florida. Flying into Venice Municipal Airport (Airport Code VNC) Only 61 Nautical Miles from Ridge Landing Airpark, which means its less then an hour flight, I would suggest multiple passes to take in Venice Beaches over the top Florida Beauty with long runs of sandy beaches equipped with some of the finest dining and night life Florida has to offer. Sharky's Restaurant is the dining establishment of topic for today and comes highly suggested from about everywhere you can look! in season there is live entertainment every night!
Sharky's History
In 1986, the Novacks and Pachotas won the bid to convert the site of an old, dilapidated beach concession into a restaurant, located at the base of the original fishing pier. Sharky's officially opened on February 10, 1987 with only 78 seats and a host of hungry folks , and has been serving the best food of the west coast of Florida ever since.
Directions From Venice Municipal Airport to Sharky's Restaurant
Today's directions are not very hard literally get out of your plane and walk West to the beach it is less then a mile from the airport.
Sharky's on the Pier, Venice FL
1600 Harbor Drive South
Venice, FL 34285 | USA
Phone: (941) 488-1456 Ask for Justin he is very nice and loves to please his guests!!
http://sharkysonthepier.com
Be sure to try the Captains Sharky's Platter/ is a 6 oz. Grouper fillet 5 gulf shrimp and 5 North Atlantic Scallops any way you want it with your choice of house vegetables

Fly-In to Crooked Lake | Florida's Float Plane and Amphibian Aircraft Oasis
Fly your amphibian aircraft onto Crooked Lake
Today's destination is so close you don't even have to fly. Crooked lake is a lake located in Southeast Polk County Florida directly across the highway 27 from Ridge Landing airport. Crooked lake is one of the largest lakes in Polk County both in terms of area and total volume with a maximum depth of up to 45 feet and over 21 billion US gallons of water.
Millions of years ago when sea levels were much higher than today only a few isolated hilltops of today's Lake Wales Ridge were exposed as islands offering sanctuary to the evolution of dozens of unique species of plants and animals. The rest of Florida's peninsula was covered by shallow sea where vast array of sea life and coral lived in grew.
As the sea slowly receded during the Ice Age's Florida was slowly exposed, and the new life forms expanded there range along the sandy dunes of the ridge. Today the thin straight-line of the 100 Mile ridge is clearly visible from space.
Fly Into Sanibel Island Florida
Hello Aviators! Have you ever… dreamed of being on a tropical island, your toes in the soft white sand, an expansive beach, swaying coconut palms, lush tropical foliage and beautiful crystal blue water. Imagine watching the pelicans and herons fish for their dinner, collecting "treasures from the sea," pastel colored seashells, while the sandpipers scurry along the surfs edge. Sanibel Island has everything one could wish for…excellent restaurants, accommodations, golfing, tennis, fishing, boating, shopping, bike paths, canoes, theatrical productions, the renowned J.N. "Ding Darling" National Wildlife Refuge & Bird Sanctuary. Since 1884 Point Ybel Lighthouse has guided seafarers to Sanibel Island's shores.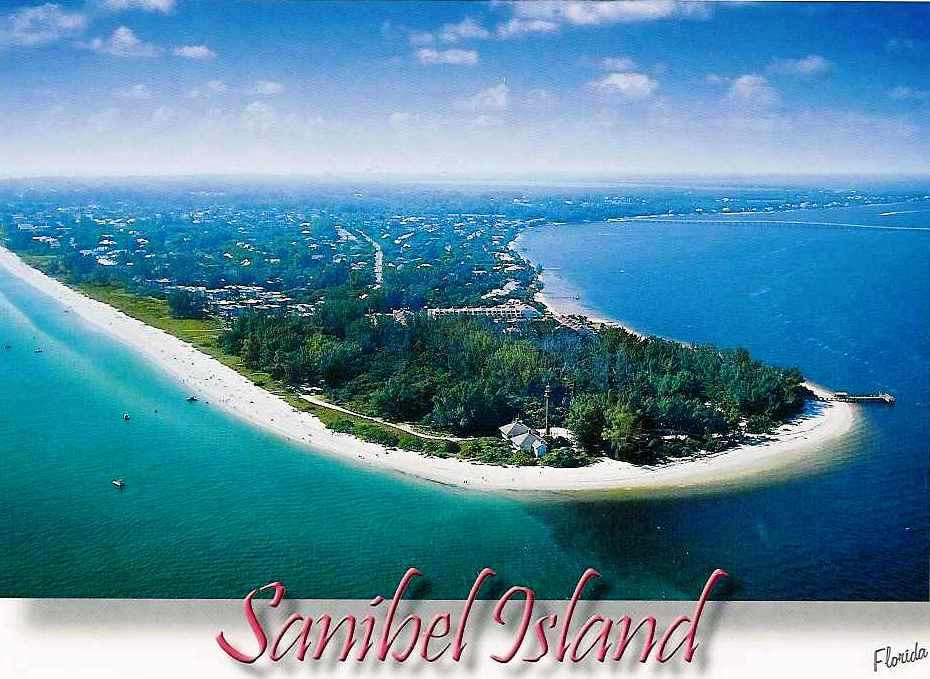 Paul Tritaik, Refuge Manager
1 Wildlife Drive
Sanibel, FL 33957
Phone: (239) 472-1100
Fax: (239) 472-4061
Email: dingdarling@fws.gov
The J. N. "Ding" Darling National Wildlife Refuge is located on the subtropical barrier island of Sanibel in the Gulf of Mexico. The refuge is part of the largest undeveloped mangrove ecosystem in the United States. It is world famous for its spectacular migratory bird populations
Car Rentals
1015 Periwinkle Way, Sanibel, FL
17811 San Carlos Boulevard, Ft Myers Beach, FL
Afa Auto Rental
19011 San Carlos Boulevard, Fort Myers Beach, FL ]
(239) 463-2122

KRSW
Southwest Florida International Airport
Fort Myers, Florida, USA
FAA INFORMATION EFFECTIVE 15 NOVEMBER 2012
Location
FAA Identifier:
RSW
Lat/Long:
26-32-10.2000N / 081-45-18.6000W
26-32.170000N / 081-45.310000W
26.5361667 / -81.7551667
(estimated)
Elevation:
30 ft. / 9.1 m (surveyed)
Variation:
04W (2000)
From city:
10 miles SE of FORT MYERS, FL
Time zone:
UTC -5 (UTC -4 during Daylight Saving Time)
Zip code:
33913
Airport Operations
Airport use:
Open to the public
Activation date:
03/1983
Sectional chart:
MIAMI
Control tower:
yes
ARTCC:
MIAMI CENTER
FSS:
MIAMI FLIGHT SERVICE STATION
NOTAMs facility:
RSW (NOTAM-D service available)
Attendance:
CONTINUOUS
Wind indicator:
lighted
Segmented circle:
yes
Lights:
ACTVT MALSR RY 06 – CTAF. ALL OTHER LIGHTS OPERATE CONTINUOUSLY.
Beacon:
white-green (lighted land airport)
Operates sunset to sunrise.
Landing fee:
yes, FEES FOR ALL CHARTER AND TRAVEL CLUBS AND REVENUE PRODUCING ACFT.
Fire and rescue:
ARFF index D
Airline operations:
CLSD TO UNSKED ACR OPNS WITH MORE THAN 30 PSGR SEATS EXCP PPR CALL AMGR (239) 590-4810.
International operations:
customs landing rights airport
US CUSTOMS USER FEE ARPT.
US CUSTOMS USER FEE ARPT.
Airport Communications
| | |
| --- | --- |
| CTAF/UNICOM: | 122.95 |
| ATIS: | 124.65 |
| WX ASOS: | PHONE 239-561-0966 |
| FORT MYERS GROUND: | 121.9 348.6 [0600-0000] |
| FORT MYERS TOWER: | 128.75 257.8 [0600-0000] |
| FORT MYERS APPROACH: | 119.75(060-240) 125.15(241-330) 126.8(331-059) 306.2(241-330) 327.8(060-240) 343.75(331-059) [0600-0000] |
| FORT MYERS DEPARTURE: | 119.75(060-240) 125.15(241-330) 126.8(331-059) 306.2(241-330) 327.8(060-240) 343.75(331-059) [0600-0000] |
| CLEARANCE DELIVERY: | 132.075 |
| CLASS C: | 119.75(060-240) 125.15(241-330) 306.2(241-330) 327.8(060-240) |
| CLASS C IC: | 126.8(331-059) 343.75(331-059) |
| WX ASOS at FMY (7 nm NW): | PHONE 239-936-2318 |
| WX AWOS-3 at IMM (20 nm E): | 118.525 (239-657-2038) |
APCH/DEP SVC PRVDD BY MIAMI ARTCC ON FREQS 134.75/322.5 (FORT MYERS RCAG) WHEN FORT MYERS APCH CTL CLSD.
WHEN ATCT CLSD LAWRS AVBL ON FREQ 122.95.
Nearby radio navigation aids
| VOR radial/distance | | VOR name | | Freq | | Var |
| --- | --- | --- | --- | --- | --- | --- |
| RSWr073/1.2 | | LEE COUNTY VORTAC | | 111.80 | | 02W |
| CYYr006/23.0 | | CYPRESS VOR/DME | | 108.60 | | 03W |
| PGDr154/(26.1) | | PUNTA GORDA VOR | | 110.20 | | 03W |
| LBVr227/26.2 | | LA BELLE VORTAC | | 110.40 | | 01E |
NDB name
Hdg/Dist
Freq
Var
ID
NAPLES
006/22.9
201
03W
APF

.- .–. ..-.
Airport Services
| | |
| --- | --- |
| Fuel available: | 100LL JET-A |
| Parking: | hangars and tiedowns |
| Airframe service: | MAJOR |
| Powerplant service: | MAJOR |
| Bottled oxygen: | HIGH/LOW |
| Bulk oxygen: | HIGH/LOW |
Runway Information
Runway 6/24
Dimensions:
12000 x 150 ft. / 3658 x 46 m
Surface:
asphalt/grooved, in good condition
Weight bearing capacity:

| | |
| --- | --- |
| Single wheel: | 30.0 |
| Double wheel: | 190.0 |
| Double tandem: | 430.0 |
| Dual double tandem: | 840.0 |

Runway edge lights:
high intensity
RUNWAY 6
RUNWAY 24
Latitude:
26-31.589113N
26-32.750393N
Longitude:
081-46.201155W
081-44.417242W
Elevation:
26.5 ft.
29.7 ft.
Traffic pattern:
right
left
Runway heading:
058 magnetic, 054 true
238 magnetic, 234 true
Markings:
precision, in good condition
precision, in good condition
Visual slope indicator:
4-box VASI on left (3.00 degrees glide path)
4-light PAPI on left (3.00 degrees glide path)
RVR equipment:
touchdown
Approach lights:
MALSR: 1,400 foot medium intensity approach lighting system with runway alignment indicator lights
Runway end identifier lights:
yes
Centerline lights:
yes
yes
Touchdown point:
yes, lighted
yes, no lights
Instrument approach:
ILS
Airport Ownership and Management from official FAA records
Ownership:
Publicly-owned
Owner:
BOARD OF COM LEE CO PORT AUTH
PO BOX 398
FORT MYERS, FL 33902
Phone 239-590-4800
Manager:
ROBERT M. BALL
11000 TERMINAL ACCESS RD.
FORT MYERS, FL 33913
Phone 239–590-4800
Archives by Month:
Archives by Subject:
Archives by Year: